Scottish energy firm SSE reveals £8bn investment plan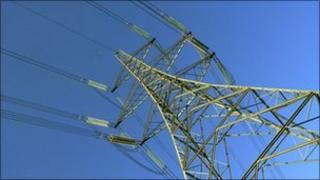 Scottish and Southern Energy plans to invest £8bn over the next five years.
The Perth-based power company, which trades north of the border as Scottish Hydro Electric, has earmarked £3.5bn of the total for Scotland.
A further £1.5bn has not been designated to any area, but much of it is expected to be on renewable energy in Scottish waters and in hydro power.
The company claims it will help create 7,000 contractors' jobs in Scotland, on top of the 5,000 staff it already has.
Projects approved for capital expenditure by SSE include the large onshore wind farms Clyde and Griffin, and up to 12 other sites. It also plans to upgrade its hydro projects, including pump storage projects near Loch Ness.
An estimated £500m is to be spent on the controversial Beauly-Denny power line, in partnership with ScottishPower. This will upgrade the grid connection, bringing renewable power through the central Highlands to the central belt.
Work on that is expected to start soon, though there is still a dispute about the measures being taken to reduce the pylons' visual impact nearer Stirling.
There are plans for other upgrades to Highland connections, three of them gathering power into Beauly near Inverness, and a new connection between Kintyre and Hunterston in North Ayrshire.
Shetland projects
One of the smaller, but more innovative investment projects is to be in Shetland, which is not connected to the UK national grid.
Measures to reduce dependency on diesel generation, at a cost of £44m, are off-peak storage and water heating systems in 750 homes.
SSE also plans to install a 1MW battery at Lerwick power station, linked to wind turbines, to help balance the system for peak demand. It is believed to be the largest battery in Europe and equivalent in capacity to two million household AA batteries.
The investment programme recently approved by the SSE board includes £700m of spending in the financial year starting next month, rising to a peak of £800m.
Ian Marchant, chief executive of Scottish and Southern Energy, said the company expected to be "a driving force" in Scotland's economic recovery.
He added: "This level of investment puts more than just cash into the Scottish economy - it brings thousands of new jobs and, perhaps more importantly, new skills and potentially entirely new industries."
Over the past two years, SSE has formed alliances with wind turbine manufacturers Siemens, in a bid to drive down development costs. It is also buying a stake in the Campbeltown plant where towers are made for turbines.
It has a stake in Burntisland Fabricators where jackets are fabricated for offshore sites, and it has set up an engineering centre in Glasgow with Japanese engineering giant Mitsubishi.