Wiseman agrees deal with Co-op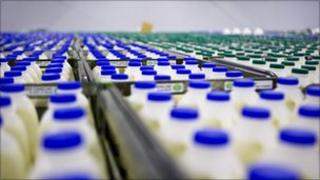 East Kilbride-based dairy company Robert Wiseman has won the contract to be the sole supplier of own-brand milk to the Co-operative group.
Wiseman currently supplies 75% of the Co-op's milk and from August that will increase to 100%.
The deal will see 350 farmers becoming dedicated suppliers for the chain.
The Co-op said the farmers would receive a premium rate for providing some 363 million litres of milk a year to about 4,000 stores.
Billy Keane, managing director of Wiseman, said: "We are very pleased to further extend our relationship with The Co-operative Group, and delighted that this important customer has taken the decision to set up a dedicated group of dairy farmers drawn from the Wiseman Milk Partnership."
Tim Hurrell, chief executive of the Co-operative Group's food business, said: "Wiseman has been a valued supplier to The Co-operative for many years, has consistently demonstrated high service levels and has proved to pay, on average, a higher standard farm-gate milk price to British dairy farmers than any other major liquid milk processor.
"Wiseman is focussed on sustainability and its flagship site at Bridgwater is one of the most efficient and environmentally advanced dairies in the world."