'Skills boost needed' for oil and gas sector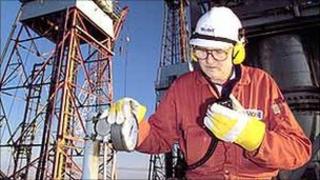 More than half of firms in the oil and gas sector warn that skill shortages are their number one challenge, a survey has found.
It is estimated the rate of recruitment and training will have to double in the next five years, and that the prospects could mean 15,000 more jobs.
The study was carried out by industry training body Opito and the Engineering Construction Industry Training Board.
It found 44% of companies expected significant growth this year.
But they are warning engineering and management skills are hard to find, leading to the prospect of wage inflation.
Out of 110 companies surveyed by a team at Robert Gordon University in Aberdeen, nine out of 10 anticipated a boost in their international activity, with 67% expecting growth as a result of decommissioning work from the North Sea and 63% expecting a growth in renewable energy contracts.
The survey found the problem of an ageing oil and gas sector workforce had been effectively tackled, with a sizeable proportion of employees now aged under 25.
But it suggested this explained the premium being placed now on those who could bring experience to recruiting firms.
Managing director of Opito David Binnie said: "Capital spend on existing sanctioned projects will increase to £22bn over the next five years, potentially rising to £40bn.
"This expenditure is targeted at around 33 new platforms, 12 major asset modifications and 40 subsea tie-backs."
He added: "This is a startling set of opportunities and our estimates suggest that over 15,000 new posts will be required over the next five years to deliver these project plans.
"Meeting that challenge and increasing the supply pool of experienced talent is critical if we are to avoid inter-company competition, cost inflation and the delay or cancellation of projects."
David Edwards, chief executive of ECITB, said the rate of recruitment and training of technicians and engineers had to double within the next five years if the industry was to meet the strategic demand.