£8m bail-out for Scottish architecture firm RMJM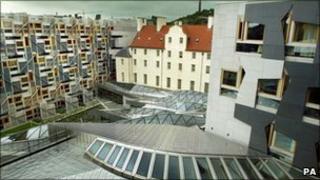 The Edinburgh-based architecture firm which led the building of the Scottish Parliament has needed an £8m bail-out from its lead investor.
RMJM claims to be one of the world's top 10 architecture practices, with 850 employees.
But the company has faced severe cash flow problems.
It has announced a capital injection by the Morrison family, which includes RMJM chief executive Peter Morrison and chairman Sir Fraser Morrison.
Sir Fraser built up the Morrison Construction firm and was chairman of Highlands and Islands Enterprise.
The extra funding for RMJM follows two years of severe trading problems, hit by the economic downturn and late payments by clients in the Middle East and Russia, with staff complaints and high level departures when pay was delayed.
Signs of recovery
Last year, the firm took on former Royal Bank of Scotland chief executive Sir Fred Goodwin as an adviser on international business.
It claimed its order book was back to pre-recession levels, comprising £78m of business.
That included design contracts for the Baha Mar Resort in the Bahamas, Motorworld and Yas Southern Marina in Abu Dhabi, and the Oman Convention and Exhibition Centre.
The Morrison family is to inject £5m in share capital, with a further £3m as a loan.
This is with the agreement of RMJM's bankers, and is scheduled to be complete by the end of this month, subject to shareholder support. The funding is not to be used to pay off bank debt, according to a spokesman.
The chief executive said he had been working through the detail of the funding for several months, and that it should leave them in robust shape.
Mr Morrison said: "The economic downturn has meant a very difficult couple of years for the profession but I'm immensely grateful to our teams and our partners worldwide for their patience and the exceptional quality of work they have continued to produce.
"Trading conditions continue to be challenging for the architecture sector but we are now seeing definite signs of recovery.
"The Far East continues to trade well and we are pursuing many significant new opportunities there.
"After two very difficult years in the Middle East, the economy there is getting back on its feet and our US business is also starting to benefit from the recommencement of a number of projects which were put on hold during the height of the recession."