Golf Open delivers £100m economic benefit to Scotland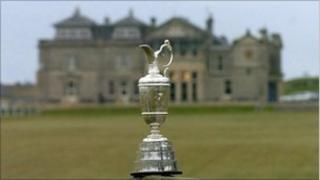 Golf's 150th Anniversary Open Championship, staged in St Andrews last year, delivered a combined £100m benefit to Scotland, according to new research.
The sum exceeds an £80m forecast by the Sports Industry Research Centre (SIRC).
The figure includes a Scotland-wide economic impact of £47.4m.
It also includes a marketing benefit of £52.6m, calculated from global television coverage presenting Scotland as the The Home of Golf.
The independent research study was commissioned jointly by The R&A and EventScotland.
It found most of the economic impact was focussed on St Andrews and the Fife Council area, with £40.1m entering the local economy directly attributable to The Open Championship.
Compared with research carried out at The Open Championship at St Andrews in 2005 the overall economic benefit of staging the event has grown by more than 25% in five years.
World-class event
A memorandum of understanding has also been formed between R&A Championships Limited, Fife, Angus, East Lothian and South Ayrshire local authorities, along with EventScotland and VisitScotland.
They aim to ensure Scotland continues to successfully host The Open Championship on a regular basis.
R&A chief executive Peter Dawson said: "The Open Championship averages six appearances in Scotland in a 10 year cycle and we are delighted that the only Major Championship staged outside the United States delivers such a powerful legacy to the country recognised, the world over, as the Home of Golf."
Mike Cantlay, chairman of EventScotland and VisitScotland, said: "The Open Championship is the perfect example of what Scotland does very well - stage world-class events that draw visitors from around the globe.
"Every golf fan wants to be at St Andrews when The Open is played, and every time it is it delivers impressive economic results for Scotland.
"Today's announcement highlights once again why Scotland is the Home of Golf."
The 2010 study was based on 3,000 interviews conducted by the SIRC team, including players, spectators, sponsors, event staff, organisers and the media, with overseas visitors to The Open from 43 countries identified by the research.