Johnston Press chief stands down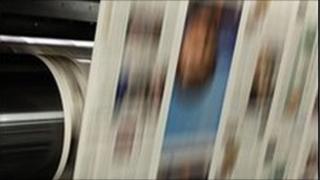 The chief executive of Johnston Press, the regional newspaper group which owns The Scotsman, is to stand down.
John Fry, who has held the post for the past three years, will leave by March 2012 at the latest.
The announcement came as Johnston Press recorded pre-tax profits of £16.5m in 2010, up from a loss of £114m in 2009.
Total advertising for the first nine weeks of 2011 fell 11.4% compared with a decline of 6.4% for the previous 12 months.
Print advertising was down 7.1% in 2010 partly due, the company said, to government spending cuts.
Digital revenues grew on a like-for-like basis by 4.0%.
Newspaper circulations declined by an average of 4.7% for weekly titles and by 7.3% for daily titles.
The company said that despite a significant increase in finance costs it had reduced its debt by £35.4m.
During 2010 the group also launched an iPhone application for The Scotsman, to-date more than 5,000 users have downloaded it.
Group chairman Ian Russell said: "The pace and consistency of the economic recovery remains uncertain and this is reflected in a weaker start to 2011 than we had anticipated.
"Nevertheless, much of the group's work in 2010 was concentrated on improving systems and technology and making processes more efficient."
Shares in the company dropped by more than 20% following the publication of the latest figures.
As well as The Scotsman and the Yorkshire Post, Johnston Press owns local papers across the UK and Ireland including the Falkirk Herald - the weekly paper from which the company grew.