Packaging firm BPI steps up recycling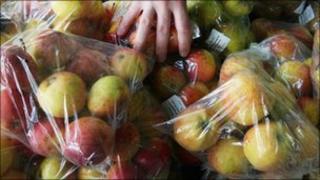 Greenock packaging group British Polythene Industries (BPI) has said it is stepping up its plans to invest in recycling to help cut costs.
BPI has seen the price of raw materials increase by £45m in 2010 and the rising oil price continues to put pressure of margins.
The group has reported annual pre-tax profits of nearly £17m - up from nearly £12m the previous year.
BPI makes packaging for the food and agricultural industries.
It employs 350 of its 2,300 workers at plants in Scotland and sells its products in 60 different countries.
BPI's chief executive John Langlands said the cost of oil was having an impact on the group's transport costs as well as the price of raw materials.
However he said: "We have decided to accelerate our planned investment in recycling equipment for both in-house and post-use polythene films.
"At current polymer prices investment in recycling should deliver very good returns and act as a hedge against continuing price increases."
Competition concerns
BPI said it was still waiting to hear whether the European Commission (EC) and the Office of Fair Trading (OFT) planned to take any action against the company.
The group's offices were raided last May in as part of an inquiry into the agricultural packaging market.
BPI said it had co-operated fully with the investigation and had "extensive guidelines and controls in place designed to ensure compliance with competition laws across our operations".
The cost to the company in legal fees so far in relation to the investigations had reached £500,000.
Credit issue
The packaging firm said the lack of cash was affecting many of its smaller competitors who did not have access to finance to expand or even sustain their operations.
It added that credit had also become an important issue for many of its suppliers and that the industry was "badly under-capitalised".
BPI said it was in a better position to weather the current economic climate and predicted although 2011 would not be easy, it had made a good start.