New takeover bid for Forth Ports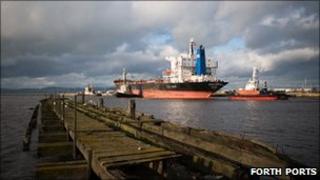 Forth Ports is being newly targeted for takeover.
The group has been valued at a £746m - more than £50m above its stock market valuation on Friday.
Forth owns docks in Leith, Grangemouth, Fife, Dundee and Tilbury near London and is Britain's only stock market listed ports company.
Arcus, a private infrastructure investment fund which already owns a fifth of the company, has tabled a conditional offer.
Directors of Edinburgh-based Forth have agreed to open the books to give the bidder further information.
Last year, Forth Ports fought off a bid by a consortium including Arcus, which then valued the company at £640 million.
Arcus is an investment firm which has interests including Euroports, the second largest dry bulk port operator in continental Europe, and Luxembourg-based Alpha Trains, which leases train rolling stock.
The offer to Forth Ports includes a pledge to pay a dividend of 20p-per-share prior to completion of any offer.
The company said: "On the basis of this indicative proposal, the board has agreed that Arcus can undertake certain confirmatory due diligence."