Aberdeen's PSN takeover move cleared by OFT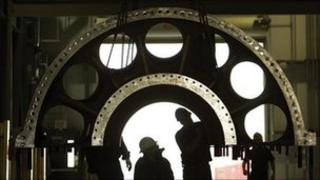 The proposed takeover of Aberdeen oil services firm PSN by the Wood Group has been cleared by the Office of Fair Trading.
It has opted not to refer the merged oil services conglomerate to the Competition Commission for a full inquiry into its impact on the market.
A full decision, with reasoning, is expected in the next few weeks.
The decision means the takeover is on schedule to complete towards the end of April, said a Wood Group statement.
That would mean creating a division of Wood Group with revenue of £1.6bn, and a global workforce of 23,000.
The news comes as the energy company saw its revenue rise by 7% in 2010.
The company experienced a 21% increase in earnings before interest tax depreciation. The figure rose from £51.3m to £62.3m.
Landmark year
PSN closed the year with £53m cash in the bank and achieved a 68% average win rate for work it bid on. It also renewed and extended all its existing customer contracts last year.
Chief financial officer Duncan Skinner said 2010 had been a landmark year for the five-year-old business.
He added: "Most notable was the fact we increased our backlog of work to a record high of £2.25bn with £1.59bn of that secured over the course of 2010.
"Major new contract wins underlined our most successful year to date."
They included the Shell integrated services contract and the Shell Brent Delta decommissioning services contract in the UK.
Mr Skinner said: "We also won our first major contract in the refining sector after we were awarded the maintenance services contract for Caltex in Australia and an engineering services contract from Encana signalled a recovery in the economic climate in the Western Canada basin, which was a major triumph for our business in Calgary."