Air tax rise may see Scottish airports lose passengers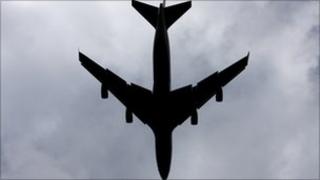 Scotland's three main airports have said a rise in passenger tax will hit business, and reduce traffic by a million passengers over three years.
Edinburgh, Aberdeen and Glasgow airports commissioned a study that suggested the loss of tourism business could cost Scotland up to £77m by 2014.
The BAA-run airports have called on the UK government to rule out future tax increases.
The capital's airport faces the biggest impact.
Air Passenger Duty was first introduced in 1994 at a rate of £5 for European destinations and £20 elsewhere.
The most recent rise in November brought the rate for a European destination to £12 and £85 for elsewhere. The duty on a long-haul flight in business class stands at £170.
The report claimed Scottish airports could lose approximately 1.2 million passengers during the next three years, including about 150,000 inbound international visitors.
It said domestic routes may be hit hardest, losing almost 500,000 passengers, while the long-haul market could fall by as much as 5%.
The survey compared the UK with the rest of Europe, where Ireland, Spain, Denmark and the Netherlands have either reduced or abolished aviation duty in order to boost air travel.
Derek Provan, Aberdeen Airport managing director this "added financial burden" meant the Scottish aviation industry now needed extra support.
He added: "There is also a very real concern about the impact this could have on vital lifeline services to the Scottish Islands.
"Support in the form of a substantial route development fund would make a real difference.
"In the light of considerable capital investment in our terminals and services, to make sure we continue to exceed passenger expectations, we urge the chancellor to think again about any increases to this potentially damaging tax."
Edinburgh Airport managing director Kevin Brown said: "The unintended consequences of this tax are significant for Scotland and its travel and tourism industries.
"Aviation knows that it has a responsibility to pay for itself which it does, but it cannot bee seen as an easy target to squeeze until dry."
He said any further taxation would cost jobs and damage Scotland's economy.
"Ministers must consider this when deciding on tax and the support that our vital industries require," he said.