Cairn Energy's Indian sale rumbles on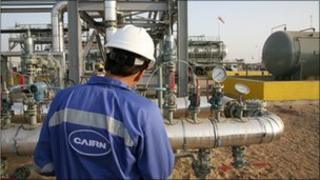 Oil exploration firm Cairn India has reported a big increase in profits in the third quarter to £272m.
The Indian company is 63% owned by Edinburgh based Cairn Energy.
The Scottish group has agreed to sell some of its Indian stake to Vedanta for £6bn but the deal has been held up over concerns about royalty payments.
Earlier this week, Cairn's UK chief executive, Sir Bill Gammel had a "positive and constructive" meeting with India's oil minister.
Cairn Energy said last summer that it would sell up to 51% of Cairn India to Vedanta, one of India's largest non-ferrous metals and mining companies, and would use the money for further exploration.
The stake includes one of the country's biggest oil and gas production developments in Rajasthan.
It was expected that the deal would conclude at the end of 2010 but the completion date has dragged on.
The transaction needs the approval of the Indian government but it wants the concerns of its majority state-owned Oil and Natural Gas Corp (ONGC) to be addressed before it does that.
The corporation owns a 30% stake in some of the assets up for sale but pays 100% of the royalties on those assets to the government.
It is thought ONGC has paid about £1.8bn on behalf of Cairn in an arrangement which was designed to attract companies to invest in the country.