Clydesdale's bad debts increase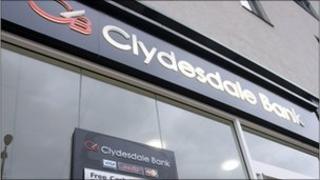 Bad debts at the Clydesdale and Yorkshire banks continued to rise in the final three months of last year.
The banking group warned that the UK economic outlook "remained weak".
It said it expected the recovery to be slow "due in part to the economic impact of the spending cuts announced in October".
Overall, the parent company National Australia Bank (NAB), reported global profits for October to December of £800m.
Lynne Peacock, UK chief executive, said: "Against a background of continued economic uncertainty, our UK business continues to demonstrate its resilience and our prudent strategic direction is unchanged.
"Clydesdale and Yorkshire Banks remain fully committed to supporting new and existing business and personal customers.
"We are firmly on course to deliver our two-year pledge to advance £10bn of gross new lending to businesses and mortgage customers by October this year."
However NAB said the demand for credit remained "subdued" and, along with low interest rates, this would restrict growth in the UK.
Overall NAB said provisions for bad debts fell by a third to more than £300m from a year ago.
This included £15m relating to floods in Queensland in December but the banking group said this figure would be revised when the extent of damage was assessed.