Wolfson Microelectronics chipmaker remains upbeat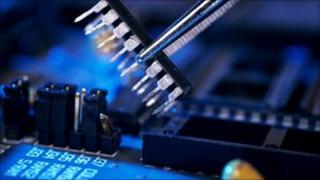 Edinburgh chip maker, Wolfson Microelectronics has continued its recovery.
The company announced it had cut its losses from about £9m in 2009 to under £7m in 2010.
Wolfson's chips are being used in some of the world's most popular products, including the new Samsung Galaxy smartphone.
Sales for the past financial year reached almost £100m and the company said it was confident about the future.
One of Wolfson's most successful products has been its sound technology, known as the Audio Hub.
Mike Hickey, chief executive of Wolfson Microelectronics, said: "We achieved strong growth momentum in 2010, delivering the second-half step-up in revenue and return to underlying profitability that we promised.
"We further strengthened our product portfolio, and our Audio Hub architecture is being adopted in the most exciting and fastest-growing consumer electronics products such as smartphones, tablet PCs, eBook readers and the latest gaming devices."