Oil find 'could transform' Edinburgh company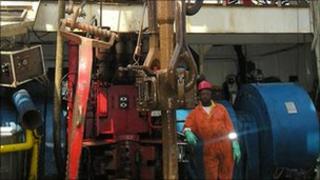 An Edinburgh-based oil exploration company has said findings from a field off the coast of west Africa could transform its prospects.
Bowleven has found evidence of oil and gas in its Sapele 1 exploration well, off the coast of Cameroon.
It has hired a rig for further appraisal drilling starting later this month.
It had to stop drilling its latest well at nearly 5,000 metres, due to "a rapid influx of very high pressure gas".
While that forced the firm to abandon that well, the finding is thought to be "significant".
An extensive drilling programme is now being planned for the rest of this year, with the new rig costing £80,000 per day.
Kevin Hart, chief executive of Bowleven, said he was "delighted" to announce the presence of oil, condensate and gas in the Sapele 1 well, "further highlighting the significance and potentially transformational nature of this play".
He said the well "bodes well for an exciting and successful campaign in 2011".
The company's share price rose slightly on the news, having more than doubled in the past three months.
Bowleven focuses its efforts on West Africa.