Financial sector skills gap 'could threaten growth'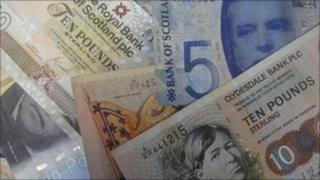 A skills gap could threaten the growth of the Scottish financial services sector, an industry body claims.
Research by the Scottish Investment Operations (SIO) suggested there was a growing problem of graduates ill-equipped to work in the sector.
The sector manages funds worth £650bn, employs one in 10 Scottish workers - about 90,000 people - and accounts for 7% of GDP.
Problem areas included communication, both verbal and written, and numeracy.
The research involved 24 financial service companies and four recruitment agencies, including Abbey, Aviva, Clydesdale Bank, Barclays Wealth, RBS, and Tesco Bank.
It found candidates regularly did not articulate themselves well and could not be relied upon to communicate with customers and colleagues effectively without additional training to meet the gap.
Recruitment barrier
Written communication skills also featured heavily, with employers advising that candidates' letters showed signs of poor grammar, sentence construction and spelling errors.
It also pointed to a failure among school leavers and graduates to properly understand what a job in the financial services industry entailed, with many having an "unnecessarily negative" perception.
Alan Thornburrow, chief executive of SIO, said Scotland was not producing enough skilled school leavers and graduates to keep its place "at the forefront of global advance".
He added: "Research by SIO highlighted concerns that a lack of employability skills was one of the main barriers to recruiting and retaining new staff."
A Scottish government spokeswoman said there was "no evidence" to substantiate the view that young Scots were ill-equipped for work.
"The latest international comparisons show that young people in Scotland performing well compared to the rest of the UK in maths, English and science," she added.
Unique course
The SIO, which represents major companies such as Standard Life Investments and Scottish Widows Investment Partnership, has called for universities and companies to work closer together.
Last year it introduced the first professional qualification for investment accountants in an effort to plug the gap.
The six-month Investment Accounting Diploma, which is to be made available internationally, was launched in partnership with the Institute of Chartered Accountants and the Chartered Institute of Bankers.
Mr Thornburrow said the new qualification demonstrated how companies located in Scotland were taking the lead globally in ensuring that the investment industry was properly skilled.
"This is a unique course, pioneered in Scotland, to address an issue that has been identified globally in the financial services industry," he said.