Scottish house prices fall but are up over the year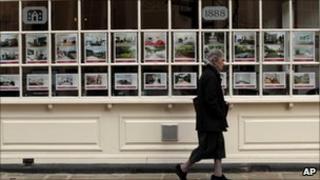 The price of a home in Scotland fell by 3.2% in the final three months of last year, according to official figures.
However, Registers of Scotland (RoS) data showed that over the year house prices rose by 1.7%.
The number and value of properties sold from October to December fell, with £3bn of property changing hands, a drop of 6.4% on the same period last year.
Edinburgh was overtaken by East Dunbartonshire as the local authority area with the highest average price.
The average cost of a home in East Dunbartonshire is now £216,644 while in Edinburgh it is £216,597.
The city of Edinburgh remained the largest market in the final quarter, with sales of £428m.
In Scotland as a whole, the average cost of a home is £158,213.
Clackmannanshire saw the biggest fall in prices, with a 19% quarterly drop and compared with a year ago the cost of a home is 13.7% lower.
Quarterly falls were also recorded in East Renfrewshire and Inverclyde.
Kenny Crawford, RoS's head of commercial services, said: "All four property types (detached, semi-detached, terraced and flatted) saw fewer sales.
"Prices increased for detached and semi-detached houses. Terraced and flatted properties experienced the smallest decline in sales."
January fall
Meanwhile monthly figures from the Nationwide Building Society showed UK prices edging 0.1% lower during January.
According to the society, it was the fifth time in seven months that property values had fallen, leaving the typical home costing £161,602 - 1.1% less than in January 2010.
And data on mortgage lending showed a sudden dip in December.
The Bank of England said that the number of mortgages approved for house purchases in December fell to its lowest level since March 2009.
There were 42,563 approvals, showing a relatively sudden dip of nearly 5,000 from the previous month and a similar fall compared with the average of the previous six months.