E-mail leaked over Scottish job creation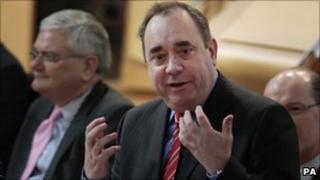 A leaked e-mail has suggested First Minister Alex Salmond is examining the job creation potential of a range of business policies.
They include a long-term reduction in business rates to 10% below the English level.
The e-mail asks for "urgent" information from civil servants.
Labour said it revealed "chaos" in government but a spokesperson for Mr Salmond said it was routine to consider policy options.
In addition to the cut in business rates, the e-mail refers to changes to the relief offered to empty business properties.
Labour's finance spokesman Andy Kerr claimed the policies could cost struggling businesses millions of pounds in increased tax.
He said: "This e-mail reveals that their solution is to offer a cut in business rates that would take £200m out of council budgets, decimate services and cost thousands of jobs.
"Much more worrying is the SNP's secret plan to end relief on empty properties.
"Having failed to learn the lesson from their failure to consult with retailers over the supermarket tax, they now want to recover the cash from other struggling businesses."
The first minister's spokesperson dismissed the comments and accused Labour of playing "silly games".
He said: "This relates to the Joint Ministerial Committee meeting focussing on the economy in London next Wednesday, where the first minister will be making a presentation about the failing approach of the UK government, as well as focussing on the job-creating measures of the Scottish government."