Robert Wiseman dairy depot at Cupar faces closure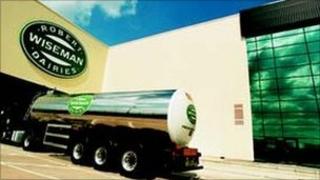 The future of a dairy depot in Fife is in doubt after its owners announced it had begun a 30-day statutory consultation with staff.
Sixty-eight jobs could be lost at Robert Wiseman Dairies in Cupar if the depot is closed.
A company spokesman said contracts had been lost in the Fife area and they needed to reassess their facilities to match supply with demand.
The consultation with workers at the depot will end on 25 February.
Meanwhile, an interim statement from the company highlighted recent rises in oil-related costs, which could be passed on to consumers.
The company also said it recognised difficulties faced by its dairy farmers, who have also experienced increased costs in recent months.
It said it noted calls for an increase in the amount paid for raw milk and would continue to address the concern, as well as manage its own costs and margins.