Cairn close to selling some of Indian stake to Vedanta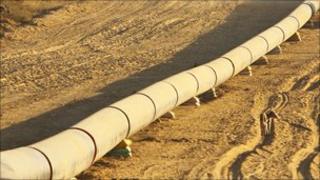 The Edinburgh oil explorer Cairn Energy said it is close to completing the sale up to 51% of its Indian operations to Vedanta.
Cairn announced last summer that it was planning to sell the stake for about £6bn and has won shareholder approval.
However the firm has to get permission from the Indian government and expects the deal to be completed in April 2011.
It has arranged finance of £585m to fund its new drilling campaign off the coast of Greenland.
The company has said it is optimistic it will find substantial oil reserves in largely unexplored Greenland.
Cairn has hired two rigs to drill up to four wells in the Arctic region in 2011.
The money raised from selling the 51% share in Cairn India to Vedanta, one of India's largest non-ferrous metals and mining companies, is to be used to fund further exploration.
Cairn will retain up to 20% of the Indian operation.
Deal delayed
The stake includes one of the country's biggest oil and gas production developments in Rajasthan.
The expected completion of the deal is four months later than originally expected.
Sir Bill Gammell, chief executive of Cairn Energy said: "Cairn continues to work with the Government of India in a consensual manner to secure the necessary consents and approvals for completion of the Vedanta transaction.
"In Greenland the results from our 2010 drilling programme were encouraging and the goal of our future exploration efforts will be to establish reservoir and potential commercial resources."
Meanwhile in a trading statement, Cairn Energy said average daily production in 2010 was 70% higher than 2009's levels.
Gross daily production last year was 130,952 barrels of oil equivalent per day, of which Cairn's entitlement interest was 65,292.