Diageo in spirits deal with Vietnamese distiller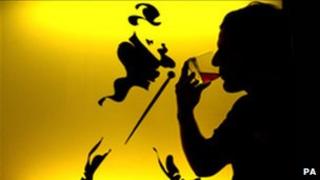 Diageo, the world's largest spirits company, has struck a deal to boost its access to the Vietnamese market.
The Johnnie Walker distiller has taken a stake in Halico, Vietnam's largest branded spirits distiller.
While agreeing a strategic partnership, Diageo is paying £33m for a 24% stake in the Hanoi Liquor Joint Stock Company, which has Vodka Hanoi as its main brand.
It will help its Vietnamese partner in innovation, branding and logistics.
The London and New York-listed company is to develop its spirits business in the country separately, including promotion of Johnnie Walker, Smirnoff and Baileys.
Vietnam is seen as a promising market, with Halico seeing double-digit growth in the past four years.
Scotch whisky sales could be helped if there is to be a trade agreement with the European Union, as recently agreed with South Korea.
'Great partner'
Ho Van Hai, director of Halico, said: "We are very keen to accelerate our development, as Vietnam continues to offer attractive growth potential.
"Diageo is a great partner for us - they have experience working with large local industry players and have a reputation for building iconic brands.
"Their understanding of consumers and cultures in Asia and their commitment to this region gives us the confidence that, as a result of this partnership, we will take Halico and our brands to greater heights".
Gilbert Ghostine, head of Diageo's Asia-Pacific division, said: "Halico's strong distribution and recent investment into their state-of-the-art production facility speaks of their ambitions in this market.
"Diageo has many successful partnerships in Asia Pacific and partnerships are integral to the way we want to grow our business in this region."