Technology firm Dialog opens new Edinburgh premises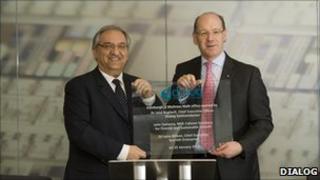 An international semiconductor company has marked its Scottish expansion by opening new premises in Edinburgh.
Dialog Semiconductor has grown from four employees to more than 30 since it set up in Scotland in 2007.
Its expansion was boosted by a £1.3m grant from Scottish Enterprise.
Dialog, whose headquarters are in Germany, specialises in integrated circuits optimised for personal mobile, lighting and display and automotive applications.
Finance Secretary John Swinney, who opened the company's new Scottish premises, said Dialog's rapid growth was "a resounding endorsement of Scotland's credentials as a great place to do business".
He added: "The Scottish government is committed to building on this excellent reputation to accelerate economic recovery through the development of strong international trade links - and we are using every tool at our disposal to achieve this."
The headquarters for Dialog Semiconductor are in Stuttgart and it has operations in Austria, China, Germany, Japan, Korea, Taiwan, UK, and the USA.
The firm's global operation had a turnover of approximately £296m in 2010.