Scheme to safeguard tenants' rental deposits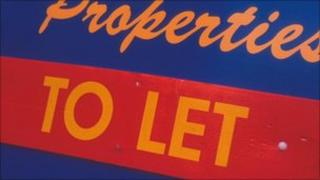 Home rental deposits will have to be handed over by private landlords to an independent arbitrator, under Scottish government plans.
With as many as 11,000 deposits being unfairly withheld, any disputes about paying them back will go to mediation.
The change in the law is to be introduced from March, and will affect more than 230,000 tenants in Scotland's private rented homes.
Many pay their landlords a month's deposit when they start their lease.
Up to £74m may be held that way by landlords.
Getting it back can be difficult when leases end, with disputes over cleaning and wear and tear on the property, often involving students.
The Scottish government says as many as 11,000 deposits, worth £3.6m, may be withheld unfairly each year. Until now, legal action has been the only way of challenging that.
Starting in March, all deposits are to be paid into independently-controlled funds. Disputes over how much should be returned can go to an arbitration service, at no cost to its users.
Housing Minister Alex Neil, who laid the regulations before the Scottish Parliament on Monday, said: "The majority of landlords behave responsibly and so it is important that we tackle those landlords who continue to tarnish the image of the private rented sector.
"The new regulations are streamlined with the emphasis on creating a cost effective approach to safeguarding tenancy deposits."
Liam Burns, president of National Union of Students Scotland, claimed students lose an average of £200 through unfairly withheld deposits, and reform would be good for "the vast majority of reputable landlords" as well as tenants.
"Far too often we hear of students struggling to get their money back due to landlords treating deposits as a de facto fee rather than a safety net for damage to properties."
'Held to ransom'
Gordon MacRae of housing charity Shelter Scotland, also welcomed the scheme, saying: "The challenge now is to ensure the Scottish Parliament moves it forward for implementation as soon as possible".
Mike Pringle, Lib Dem MSP for Edinburgh South, backed the new scheme, saying: "It is high time that substantial deposits of those living in private rented accommodation in Scotland are protected by law. It is not right that individuals and families can be held to ransom by unscrupulous landlords who don't return their deposits."
However, the consultation on the change, which ran from August to November last year, met with opposition from landlord groups. John Blackwood, of the Scottish Association of Landlords, said the proposed change in the law was disproportionate to the scale of the problem.
He said a higher priority should be cracking down on bad landlords who fail to register, as they should by law, and who fail to maintain their properties adequately. And he questioned how effective councils would be in ensuring landlords used the sceme.
"A properly enforced landlord registration scheme would be far more cost effective and successful in not only tackling bad landlords from illegally withholding tenant's deposits but by removing them from operating in the sector altogether," he said.