Airdrie Savings Bank lends record sum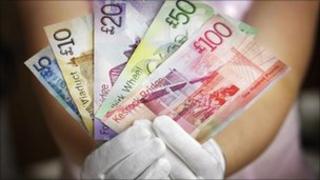 Scotland's last independent bank has announced record lending figures.
The Airdrie Savings Bank loaned more than £36m last year, up 24% on the previous 12 months.
The bank said it was now looking to build on its success by expanding outside of its Lanarkshire homeland for the first time.
The figures come six months after a group of Scottish business people deposited £10m into the bank to encourage lending and expansion.
The savings bank reported a pre-tax profit of £326,000, up 21% from £270,000 in 2009.
Deposits at the bank increased by 5.4% to £130.6m, while the bank holds reserves of £15.04m compared to £14.74m the previous year.
Robert Boyle, the bank's president, said there was an expectation of further growth in 2011.
He added: "The focus of the trustees and employees is specifically on serving our customers and looking after their money safely.
"We are also endeavouring to support businesses and individuals during these unprecedented economic times."
Expansion plans
Last year, the bank won the backing of several prominent Scottish business figures including Brian Souter, Ewan Brown, Alastair Salvesen, Sir Tom Farmer and Ann Gloag, who said they were dismayed at the state of the UK's banking sector.
Impressed by Airdrie Savings Bank's commitment to traditional banking values, their deposits acted as seedcorn for the bank's expansion plans.
The bank, which marked its 175th birthday in 2010, is now considering opening two branches beyond Lanarkshire during the next 18 months, with further growth expected over the next five years.
Jim Lindsay, Airdrie Savings Bank's chief executive officer, said: "Given the uncertain economic conditions, we are very pleased with the results we are reporting today.
"We have fulfilled our commitment to continue lending to customers and expect that figure to continue growing in the coming months.
"Customer response suggests that this is a perfect time for us to look at expansion. There is a genuine appetite in Scotland for an independent bank offering a traditional, reliable banking service."