CBI says Scotland dependent on exports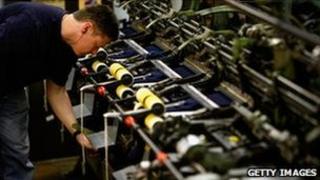 Scottish industry became increasingly dependent on exports as the domestic market slowed down, according to a survey by CBI Scotland.
New domestic orders in the three months to January fell unexpectedly.
Scottish manufacturers were more optimistic about their export prospects for the coming year but overall output was down.
Companies also indicated that they would not be creating jobs in the foreseeable future.
The cost of raw materials increased but firms were unable to pass it on, although the price of exports increased.
Prospects for business investment in the year ahead fell back on the previous survey's results, but remained positive for training and retraining.
Uncertainty about future markets came up as a factor likely to limit investment.
Iain McMillan, CBI Scotland director, said: "The results of this survey are somewhat disappointing with optimism having cooled and contractions in orders and output over the past three months.
He added: "Whilst exports are performing well, the overall position in the last quarter of 2010 is looking bleaker than it did, with manufacturers having to work harder than ever to win new orders at home and abroad."
Mr McMillan said it was "vital" that the UK and Scottish governments "do everything in their power to put in place the right policies that will aid business investment and trade and support manufacturers going forward".