Public spending cuts 'hitting business' in Scotland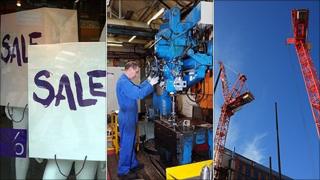 Cuts in public spending are having an increasing impact on Scottish businesses, a new survey has suggested.
The Scottish Chambers of Commerce also found firms working with the public sector were more pessimistic than those mainly trading with the private sector.
Its survey for the fourth quarter of 2010 suggested business confidence remained "weak across the board".
And the poll of about 200 firms in five sectors found expectations were subdued for the first quarter of this year.
The survey suggested business optimism continued to decline in all sectors during the last quarter - with optimism in manufacturing, tourism and construction remaining at their lowest levels since the first quarter of 2009.
However, it found the Scottish manufacturing sector continued to perform strongly, with exports holding up particularly well.
Garry Clark, head of policy at the Scottish Chambers of Commerce, said: "This reinforces the importance of the sector in leading an export-led recovery, and highlights the need to continue efforts to boost international trade links for Scottish business.
"However, other sectors continue to experience challenging trading conditions and there remains no signs of any general economic upturn in the near future."
Mr Clark added: "Business confidence remains weak across the board and it is clear that the cuts of public spending are having an increasing impact on trade and future expectations."
The Scottish survey was conducted in conjunction with the University of Strathclyde's Fraser of Allander Institute.