Gold firm raises cash from sale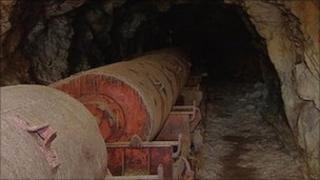 The company hoping to mine for gold in the Trossachs has raised more than £600,000 to continue exploration.
Scotgold Resources has sold 9% of new shares to investment company Kenglo One Ltd.
Kenglo, a Jersey-based investment company, specialises in natural resources.
Scotgold Resources is intending to reapply for permission to mine for gold in the Loch Lomond National Park after being turned down last August.
The company has also lodged an appeal with Scottish ministers but is expecting a planning decision later this year.
Earlier this week Scotgold Resources admitted it had "tested" the patience of its shareholders with the delay in progressing the Cononish mine.
However, the company said it was now poised to add considerable value to the company through a successful reapplication and further patience would be "amply rewarded".
The company said it had the support of the local community and senior politicians in Scotland.
It said its relationship with the executive of the Loch Lomond and Trossachs National Park had entered a new more collaborative phase, giving them greater confidence for a positive result.
The company added: "In concert with progressing Cononish, the company has been active in advancing its exploration prospects.
"Significant and encouraging results have been recorded over the Beinn Udlaidh area in terms of the discovery of the extension to the Beinn Udlaidh vein, the Beinn Udlaidh breccia pipe system and the Glen Orchy river vein area.
"These areas will form the target for further exploration initiatives in the 2011 exploration season."
Scottish gold is reported to be amongst the most expensive in the world - a gram of it can cost more than five times the price of normal gold.
It is said to be easily workable because of its softness and a richer yellow colour than commercially-marketed gold.
If plans work favourably for the company, it will be the first time the precious metal has been successfully extracted from a Scottish mine for more than 500 years.
In 1868/69 Scotland enjoyed its own year-long "gold rush" similar to those in California and Australia, when hundreds of prospectors descended on Kildonan in Sutherland to pan streams on the Duke of Sutherland's estate.
Historically Scottish gold was used to make coins during the reigns of King James V and Mary Queen of Scots, while in 1999 the current Queen presented the new Scottish Parliament with a silver mace, adorned with a ring of Scottish gold.