Construction sector drives Scotland's economic growth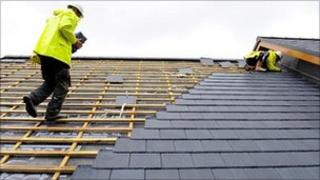 Growth in the construction sector helped drive Scotland's economy, data from the Scottish government has shown.
The country's gross domestic product (GDP) rose by 0.5% in the third quarter of 2010, the second consecutive quarter to see an increase.
Over the year to September 2010, the Scottish economy struggled out of recession, with growth of 0.1%.
The data shows construction sector grew strongly, with a 6.2% increase between July and September.
The service sector also expanded by 0.1%, but production fell by 0.3%.
Scotland lagged behind the rest of the UK, where the overall growth rate was 0.7% in the same period.
The Scottish government said growth was driven by the construction sector, which "outperformed" the UK rate of 3.9% over the quarter.
Welcoming the GDP increase, finance secretary John Swinney said: "The 0.5% growth we saw in the third quarter of last year builds on Scotland's strong performance in the second quarter of 2010, which saw the highest growth rate since the second quarter of 2006.
"We have seen strong growth in construction for three consecutive quarters, outperforming the UK as a whole - evidence that we were absolutely right to take decisive and comprehensive action through our economic recovery plan, stimulating investment by bringing forward capital projects and delivering an infrastructure programme worth £3.3bn in 2010/11."
In the second quarter of 2010 GDP rose by 1.3% over the previous three months.
'Self-congratulation'
The director of CBI Scotland, Mr Iain McMillan, said: "In some respects today's figures are encouraging, particularly the growth in construction. But the overall growth figure masks other problems in the economy such as continuing weaknesses in the production and service sectors.
"There is certainly no room for complacency on the part of Scottish Ministers, who all too often simply indulge in self-congratulation rather than taking the concerns of business seriously."
He added: "All policies of the Scottish government need to support the future development of our economy and growth in jobs. While some policies are welcome, others are not, for example, the planned increase the retail sector's business rates.
"An increasing number of senior business leaders are now rightly warning that this increase could result in lower levels of investment and fewer jobs."