Winter freeze hits Scottish festive retail sales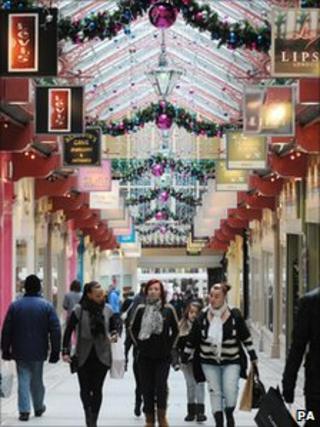 The December freeze had an impact on sales during the Christmas period, according to new figures.
The Scottish Retail Consortium (SRC) said there was a significant fall, of 1.8%, in sales of non-food items.
However, food sales increased by 3.5% as people stocked up for the festive season in the snowy weather.
Like-for-like sales, which do not include new stores, rose by 0.7% in December compared with 2009, while total sales were up by 3.4%.
Total sales in the UK as a whole saw a drop of 0.3% for the same period.
But Scottish growth was against a weaker December 2009, while the UK's decline was from a strong previous year.
The freezing weather affected high street sales during the first half of December but boosted one-stop shopping and neighbourhood stores.
It did, however, benefit online sales early in the month but slowed again near Christmas as retailers experienced delivery difficulties.
SRC director Fiona Moriarty said there was a big rush in the last week before Christmas.
But she added: "It wasn't enough to outweigh the damage to non-food sales from the combination of bad weather and fears about job cuts and falling incomes."
David McCorquodale, head of retail in Scotland for accountants KPMG, said 2011 was set to be a challenging year but Christmas figures from retailers did not reflect the "dire picture" of two years ago.