Severe weather hits Scottish house sales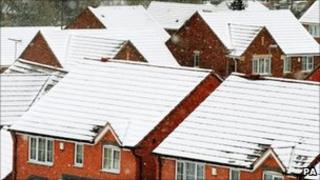 The severe weather in December led to a sharp fall in the number of houses being sold in Scotland, according to a report from property surveyors.
The Royal Institution of Chartered Surveyors in Scotland (RICS) said the extreme weather in the run-up to Christmas led to a difficult market.
The average price of houses has also continued to decline in Scotland, although at a lower rate than the UK.
Surveyors said they were hoping for a recovery in the spring.
RICS said that surveyors believed the "lacklustre" activity levels in December were related to the heavy snowfall during the month.
However, the uncertain economic outlook continued to be a concern for some buyers.
The lack of available mortgage finance was also keeping many prospective purchasers out of the market, the report said.
The December Housing Market Survey showed more surveyors reporting prices falling rather than rising.
Demand from new buyers continued to fall in December while the supply of houses in the market also declined, at a quicker rate than the previous month.
The report said that surveyors remained "moderately optimistic" about sales over the coming months.
RICS Scotland's deputy director Sarah Speirs said: "Scotland witnessed the worst of the extreme winter weather conditions and this undoubtedly had an effect on the property market.
"While lack of supply, and more importantly demand continues to impact heavily, surveyor sentiment does appear more positive for the coming months.
"The key issue now is mortgage finance. However, with commentators suggesting lending constraints are unlikely to be eased, it is hard to envisage a meaningful increase in sales levels in the near term."