Snow hits Scots economic recovery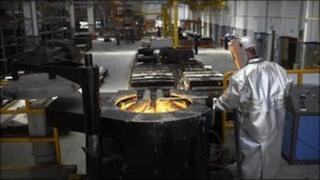 There is further evidence that the harsh weather at the end of last year hit Scotland's economy.
A Bank of Scotland report said businesses recorded a sharp drop in new orders and output.
The bad weather caused consumer spending to fall - and that in turn hit the service sector in particular.
Foreign demand held up and manufacturing companies fared better than others and they took on new staff, while other firms laid off workers.
Every month the Bank of Scotland produces the Purchasing Manager's Index (PMI) which monitors activity in the manufacturing and service industries.
About 600 companies are asked about their business and some of December's results are among the weakest for almost two years.
Scotland's private sector economy contracted in the final month of 2010, falling almost 10 points on the PMI index to 39.6 from 49.5 in November.
Manufacturers reported continued growth of new export orders from 55.1 in November to 51.5 in December.
If the figure is above 50 it shows there is growth in that area.
Overall, new business receipts in the Scottish private sector fell.
Donald MacRae, chief economist at Bank of Scotland, said: "December was a difficult month signalling a weak last quarter of 2010 for the Scottish economy.
"However, there were encouraging signs of continuing robust export demand."
Costs continued to rise for companies - driven by higher fuel prices and increases in raw materials.
The report warned that the higher costs would squeeze profit margins even more if companies were not able to pass on the increases.