Stagecoach buys buses worth £50m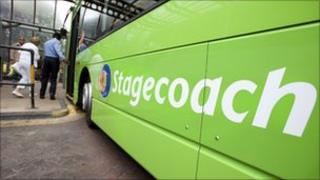 The Perth-based transport group, Stagecoach, has said it is to invest more than £50m in new coaches and buses for UK regions.
The company has placed orders for 360 vehicles - with a large percentage of the work going to the Falkirk bus maker, Alexander Dennis.
The group will also lease 160 vehicles for London operations.
The latest orders bring Stagecoach's spend on new transport in past four years to nearly £290m.
Stagecoach said the new orders followed an annual tendering process and all of the vehicles met the latest European emissions standards.
Les Warneford, managing director of Stagecoach UK Bus, said: "Minimising carbon emissions is a key factor in our investment programme. We want to play our part in reducing the impact of travel on the environment.
"We believe there is a big opportunity to attract car users to the benefits of greener, smarter bus travel and cut our own carbon footprint."