Scottish shopkeepers call for cuts in red tape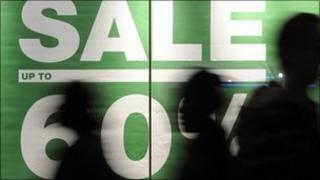 A body which represents retailers has called for the Scottish government to support shopkeepers.
In its manifesto ahead of the Holyrood election, the Scottish Retail Consortium (SRC) urged politicians to limit regulation.
It said nearly 250,000 people were employed in retail in Scotland and sales amounted to £25bn.
The SRC said retailers should be allowed to make "the best possible contribution to economic growth".
A plan by the Scottish government to impose additional business rates on large retailers has been criticised by the SRC and other organisations, which have said the move would "penalise company expansion and limit job creation".
Ministers hoped to raise £30m from the biggest shops.
However opposition parties have said the levy would hit big names in Scotland's high streets - and they look set to combine to vote against the scheme when it comes before MSPs.
Scottish Retail Consortium director, Fiona Moriarty, said: "The numbers speak for themselves. Retail is the engine room of economic recovery and, given the right support, will help Scotland work through the difficult times ahead and build a secure and successful future.
"We are now in a crucial period where policy-makers can do a lot to help or hinder the private sector's ability to lead the recovery."
Commitment
In response to the SRC's manifesto, the Scottish government said it was committed to "sustaining the fragile economic recovery underway and building an increasingly vibrant and successful retail industry".
It said it had pumped millions of pounds into town centres through a regeneration fund and had delivered 2,000 more apprentices into the retail sector.
And it defended the plan to charge bigger retailers more tax.
The Enterprise Minister Jim Mather said: "Not only do we believe that our proposed retail levy is absolutely the right approach, so too does the Federation of Small Business, because it will help redress some of the imbalance between very large supermarkets, particularly those located in out of town retail parks, and smaller independent retailers in our town and city centres."
Expansion
Two major retailers have announced plans to expand in Scotland.
Waitrose, the grocery arm of the John Lewis Partnership announced it was planning to open a further 16 stores in Scotland over the next five years.
And Sainsbury's, which already employs more than 6,000 people in Scotland, said it planned to open three new stores in the next two years as well as extending others.