Fashion retailer warns of 'tidal wave of inflation'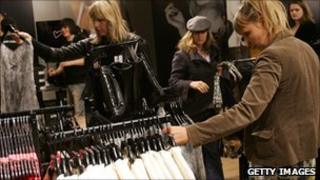 One of Scotland's leading fashion retailers has warned a "tidal wave of inflation" is about to break over the clothing sector.
Iain McGeogh, majority shareholder of the M&Co chain of shops, said the start of this year was looking "very tough".
He blamed rising cost pressures and the increase in VAT from 17.5% to 20%.
Mr McGeogh said the increase in tax from 4 January was set to be overshadowed by other pressures, from cotton prices to freight costs.
He also told BBC Radio Scotland's Business Scotland programme it was "a terrible mistake" to allow people to stay on in jobs after the age of 65.
He claimed workers from that age could be less productive and make it more difficult for younger people to find jobs and develop their careers through management.
Mr McGeogh, who has long kept a very low profile, has built up Mackays into one of Scotland's largest private companies.
A pawnbroker from the 1830s, it has been in family hands since 1961, since when it has built up a strong position in value fashion retail.
He bought out his brother's share and, in 2006, changed the name to M&Co.
Headquartered at Inchinnan in Renfrewshire, the chain now includes 300 stores throughout Britain, employing more than 3,000 people, typically in market town shopping streets.
With its online business, it claims to have 11m customers. Its most recent accounts, for the year to last February, showed revenue rising to £182m, with pre-tax profits up sharply to £10.4m.
The company is now developing a franchise operation in China.
Discussing the year ahead, Mr McGeogh said: "I think there's going to be a tidal wave of inflation coming through. Next [a rival fashion chain] have been talking about 7% or 8% prices increases, and that is happening. There will be more increases after that.
"We've got cotton price increases, acrylic price increases, labour increases in producer countries, freight costs have doubled. So at the end of the day, VAT is not really a major issue."
Mr McGeogh said the inflation in garment manufacturing was largely explained by extensive factory closures in China, as workers shifted to more lucrative electronics work.
'Terrible mistake'
In the radio programme, Mr McGeogh also criticised recent moves allowing people to choose to stay at work after 65, even if their employers would prefer them to retire.
He said the change was "a terrible mistake".
He continued: "I happen to be 65, so I can say it. I'm not planning to retire, I have no problem with anybody who is fit and able and full of energy working on, but I have a problem with those whose ability is diminishing and speed of execution is slowing up, saying 'I want to stay on', and having full employment rights.
"Where do you get the young people coming into the system? Where does the management progress through?"
Iain McGeogh's comments can be heard on BBC Radio Scotland's Business Scotland programme at 1005 GMT on Sunday. They can be heard again on the iPlayer for a week, or downloaded as a podcast.
The programme includes discussions with Caroline Donaldson, of Kynesis business consultancy, Frank Blin, senior partner at PricewaterhouseCoopers, and Martin Togneri, formerly head of Scottish Development International.