Fife firm Bifab wins £4m wave power contract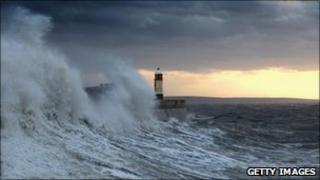 A Fife-based company has won a £4m contract to build a next-generation wave energy device for Aquamarine Power.
Burntisland Fabrications (BiFab) will build Edinburgh-based Aquamarine's Oyster 2 device at its manufacturing plant at Methil.
The Oyster will then be tested at the European Marine Energy Centre in Orkney next summer.
The news was welcomed by Scottish Energy Minister Jim Mather.
He said the project would support jobs at BiFab and allow the Oyster technology to be tested, developed and refined at a world-class testing centre on Orkney.
Mr Mather added: "Working with our enterprise agencies and other partners to develop our full potential, we will make Scotland a global leader in marine energy."
'World leader'
Aquamarine's Oyster 2 demonstration project will consist of three flaps, each measuring 26m wide, which will be linked to a single onshore 2.4MW hydro-electric power station.
The company says it will deliver 250% more power than the original Oyster 1, which was deployed at the marine energy centre last summer.
Aquamarine chief executive Martin McAdam said his company was keen to support Scotland's manufacturing industry.
He added: "The award of this contract will not only guarantee skilled fabrication jobs but will also strengthen Scotland's position as a world leader in the marine energy industry."
The Oyster project is being supported through grant funding from Scottish Enterprise and the Carbon Trust Marine Renewables Proving Fund.
Last week, Aquamarine announced that it had attracted £11m in new investment from multi-national power company ABB and existing shareholders, including Scottish and Southern Energy.