Wave firm Aquamarine wins £11m in investment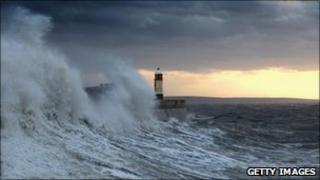 One of the world's biggest power companies has announced a multi-million pound investment in wave energy technology firm Aquamarine Power.
Edinburgh-based Aquamarine's Oyster device is already being tested at the European Marine Energy centre in Orkney.
Swiss firm ABB said it was investing £8m, with another £3m coming from Scottish and Southern Energy (SSE).
The news has been welcomed by First Minister Alex Salmond.
He described the investment as "an important milestone for Scotland's renewable sector".
Aquamarine chief executive Martin McAdam said: "This is a game-changing moment for our company and for the UK's marine energy industry."
He added: "Through working together ABB will gain an early-mover advantage in our wave energy technology, whilst we will be able to access ABB's technical, research and engineering expertise and utilise their global supply chain network."