Furnace failure hits insulation firm Superglass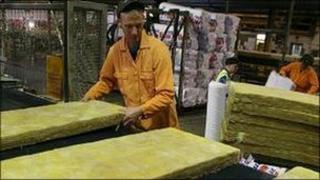 The Stirling insulation manufacturer, Superglass, has said the failure of a furnace wiped nearly £1m from its profits.
The company has reported a drop in full year pre-tax profits from £5m to £3.9m.
A fall in sales of loft insulation for homes, funded by the government's carbon emission reduction programme (Cert), also hit its results.
Superglass employs 200 people and makes fibre glass insulation from plastic bottles.
The company said the extension to the Cert programme, although delayed, was "welcome news".
Superglass chief executive, Alex McLeod, described trading conditions in the past year as "challenging".
He added: "One of the major markets we supply to is the housing market, and whilst we saw an improvement in the early part of this year, that has plateaud and we're cautious in our outlook for next year while mortgage availability continues to be a concern."