BAE Systems to shed 400 shipyard jobs on Clyde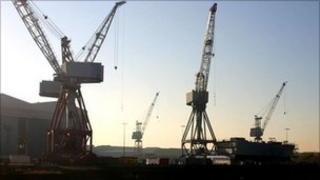 Defence giant BAE Systems has announced plans to cut 400 jobs at its shipyards on the Clyde.
The company said it was axing temporary posts filled by workers who had been brought in to meet peak demand on a number of contracts.
Workers have been told of the plans, which are now subject to a 90-day consultation.
A total of 4,000 permanent staff are employed at BAE's Govan and Scotstoun yards on the Clyde.
The yards are currently finishing building the Royal Navy's Type 45 destroyers.
HMS Duncan was launched last month and is being fitted out at Scotstoun.
Work is also continuing on HMS Dragon and HMS Defender, which will be handed over to the Royal Navy in the next two years.
The yards are also about to complete a contract for patrol vessels originally meant for Trinidad and Tobago.
The shipyard's union convener, Jamie Webster, described the job losses as "disappointing but not unexpected".
He added: "There is never a good time to be paid off and people are facing redundancy when there are not many other jobs around."
About 50 short-term workers are expected to lose their jobs over the next few weeks.
It is anticipated a further 365 temporary posts will go at the end of the consultation period early next year.
The remaining staff at the yards will continue to work on the MoD's aircraft carriers, which escaped being cut in the government's defence review.