Weir Group acquires American hydro firm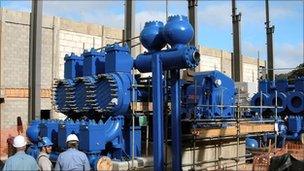 The Weir Group has agreed to buy an American company which makes turbines for hydro-electric power stations.
The Glasgow-based group has not disclosed how much it is paying for American Hydro Corporation.
The US company has had a tie-up with Weir over the past five years and also worked with the company on hydro projects in Scotland during the 1990s.
Weir said the deal would help it achieve a greater presence in the renewable energy market.
Weir's chief executive, Keith Cochrane, said: "Hydro-power is the world's largest source of renewable energy.
"Combined with American Hydro, we have the engineering depth and skills to accelerate our development in established hydro markets throughout the Americas and Europe, where there is great potential for electricity companies to improve renewable energy output in an economically-attractive manner."
Based in York, Pennsylvania, American Hydro, employs about 130 people in the design, engineering, and manufacturing of key components for hydro-electric turbines
It achieved sales of £26.9m last year and has gross assets of about £18.3m.
Weir employs more than 10,000 people worldwide, mostly in the oil and gas and mining industries.
Related Internet Links
The BBC is not responsible for the content of external sites.