Uncertainty hits Scottish housing market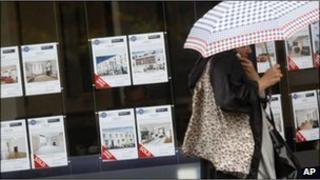 Scottish chartered surveyors believe uncertainty over cuts has caused a downturn in the housing market.
A survey for October found that more surveyors reported a drop in prices than a rise, giving a negative balance for the first time in more than a year.
The Royal Institution of Chartered Surveyors (RICS) found that new buyer inquiries and new instructions also all moved into negative territory.
Many buyers said they would wait until the spring before making a move.
Last month Scottish surveyors were more optimistic than their counterparts elsewhere in the UK.
They reported that in September prices were recovering faster than in other parts of the country.
Sarah Speirs, deputy director of RICS Scotland, said: "Scotland had been bucking the trend in the last couple of months in terms of falling house prices up until this month. What we are seeing now is the Scottish market falling into line with the rest of the UK.
"The general uncertainty over the recently announced budget cuts and looming public sector unemployment are impacting on the market.
"If we couple this with a lack of mortgage finance, the time of year and the fall in both supply and demand we can see why the market has been hit hard."
First-time buyers
Chris Highton, of Allied Surveyors in Selkirk, said: "It is now clear that the usual upturn after the summer holidays is not happening this year.
"The number of properties going to the market has dropped off significantly and the bottom end of the market remains dire, with very few first-time buyers able to obtain mortgage funds."
He added: "Without movement at the lower end, the whole market is affected."