Firms strengthen Tianjin links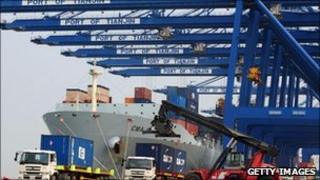 Scottish firms have strengthened trade links with the Chinese city of Tianjin following a trade visit to Edinburgh.
More than 40 Chinese companies visited the capital and met Scottish companies hoping to do business with them.
It followed a memorandum of understanding between the two which pledged greater cooperation.
Scottish Development International (SDI) which arranged the visit said Tianjin was seeking partners to transform its economy.
Frank Boyland, director of Asia for SDI told BBC Scotland: "In July, the first minister visited Tianjin and signed a memorandum of understanding between Scotland and Tianjin which it pledged cooperation such as trade and investment in education, science and technology and also in areas of tourism and culture."
He added: "You have to think about it - it's only in the last five to ten years that Chinese nationals have found it easy to go abroad, so this really is the first shoots of the investigation that Chinese companies are making."
Snooker hopes
The Scottish companies who attended the trade meeting in Edinburgh came from a wide range of industries.
Ricky Cowan, sales director of 110 Sport Management, said his company wanted to make further inroads into China.
His company looks after the commercial interests of famous sporting personalities with the likes of Stephen Hendry on his books.
He said: "At the moment a lot of the snooker players are sponsored by and do a lot of commercial work for mainstream billiard companies in China - so snooker tables, snooker cues, snooker balls.
"Where we're finding it tricky at the moment is getting into the bigger commercial markets such as banking and insurance. The global companies that have offices out there can play a huge part in brand awareness, so that's really where we're trying to dip our toe in at the moment."
He added that there was massive potential for companies to get exposure in China: "The Shanghai Master which is probably the biggest snooker event in China has 300 million viewers - we want to tap into that."
Opportunities
The Sco-Fro group has a grocery and seafood division and exports and imports to and from many parts of the world including China.
The company has been doing business there for more than 12 years but the firm's joint chief executive Sonja Bader said it was always looking for fresh connections.
She said: "There are a number of food companies here and one in particular expressed an interest in seeing us. We're always looking for new products and new opportunities."
Tianjin is located in the north east of China and is dubbed the "city of the future".
It has a population of about 12 million and was the the birthplace of Scots Olympic athlete Eric Liddell.
Despite the difference in size, Frank Boyland thinks there is a good strategic fit between Scotland and Tianjin: "China sees as its key growth sectors such as electronics, engineering, chemicals and textiles and those are also places where Scotland's strengths lie - so I think the opportunity is there for us to demonstrate how innovative, how ambitious and how globally competitive our own industries are."