Sweet firm Lees Foods signals acquisitions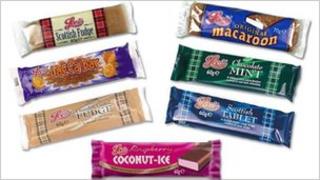 The confectionery firm, Lees, has said it is looking at making acquisitions.
The statement came as the company reported pre-tax half-year profits of £562,000 - an increase of 43%.
The group comprises of Lees of Scotland which makes macaroon bars and snowballs and the Waverley Bakery which makes ice cream cones.
It said the results demonstrated that the strategy it had implemented was being rewarded with increased sales and profits.
Chief executive Clive Miquel commented: "The directors will also consider potential acquisition opportunities to generate additional revenue streams if these are the right fit for the business."
Lees sells its products around the world including in Kuwait, France, USA and Australia.