Alliance Trust switches to Asia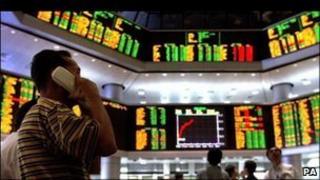 Alliance Trust has reduced its holdings in UK-listed companies to less than a third of its portfolio and switched into Asia and other emerging markets.
UK exposure fell from 36% of net assets to 31% with emerging markets up to nearly 6% from less than 1% six months ago.
The company reinvested in Asia with exposure increasing from 13% to 20%.
Alliance said it was cautiously optimistic, whilst recognising the risks of a double dip recession.
Katherine Garrett-Cox, chief executive, said: "In our view, the overall outlook for equity markets remains positive. However, developed markets are hampered by debt indigestion and we see better prospects for growth in emerging markets and Asia."
She added: "With interest rates at historic lows, our shareholders increasingly rely on Alliance Trust as a dependable source of income.
"Recognising this, we are confident that our portfolio is well positioned to deliver a 44th consecutive dividend increase for the year ending 31 January 2011."
Net assets per-share rose by 3.8% to 392.2p in the half year to July.
Alliance said the total dividend for the year would be at least 8.25p.
Strategy change
Alliance sold its shares in a number of UK companies, including those "reliant upon discretionary consumer spending."
It said it disposed of its holdings in BAe Systems because it said it appeared "vulnerable to government spending cuts and this issue is likely to continue to erode the company's longer term growth rate".
The investment firm increased its holding in BP following the oil spill in the Gulf of Mexico and said it expected the recovery in the group's share price to continue.
However, the moratorium on drilling in the gulf hit another company, Diamond Offshore Drilling, and Alliance said as a result it sold its entire holding.