Pensions firm given lower rating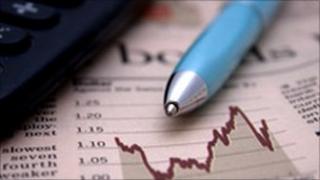 The Edinburgh pensions and life assurance company Scottish Equitable has been downgraded by the ratings agency Standard & Poor's.
The agency said the firm's earnings continued to be depressed by investment market conditions and it now rates it A+ instead of AA-.
Scottish Equitable is part of the Dutch Aegon group which announced it was looking to cut a quarter of its costs.
Hundreds of jobs in Scotland are thought to be at risk.
It is expected the company will announce more details of the cuts early next week.
However in a statement, Standard and Poor's said: "The restructuring, in our view, carries execution risk in delivering the material 25% reduction in costs while maintaining the strength of its franchise during a period of significant managerial, strategic, and operational change."
An Aegon spokesperson said: "As announced in June, we have initiated a significant restructuring program for our business in the UK aimed at sharpening our focus and improving Aegon's proposition to customers and shareholders.
"We believe that there is substantial opportunity available in the UK market and are confident that our restructuring plans will enable us to capture this opportunity from a position of strength."