Whisky company William Grant sells off liqueurs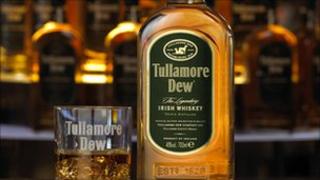 Whisky company William Grant & Sons has agreed to sell its liqueur business for more than £100m.
The sale to Gruppo Campari includes the brands Carolans, Frangelico and Irish Mist, which William Grant acquired from the Irish company C&C group.
Under a 10-year agreement, William Grant will continue to blend and bottle the liqueurs in Ireland.
It said there would be no job losses as a result of the sale, which will be completed by the start of October.
William Grant bought the spirits and liqueur business from the Irish company C&C group for £250m earlier this year.
Chief executive Stella David commented: "We remain committed to building our business in Ireland and to building the long-term value of Tullamore Dew around the world.
"Whilst Tullamore Dew was the key focus in our newly acquired portfolio, we always intended to develop the liqueur brands.
"However, we were offered a very attractive price from Campari and believe they will be able to develop these brands given their relevant expertise."
William Grant is more than 100 years old, with brands including Glenfiddich, Grants and Hendrick's Gin.