'Misleading' whisky advert banned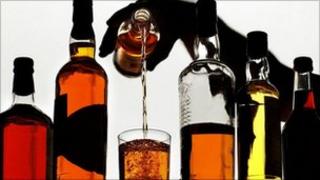 Panama-based company Scottish Spirits has been banned from using an advert which suggests its whisky is Scotch.
The advert featured a coat of arms and different bottles of whisky, one of which stated "Scottish Spirit".
The Advertising Standards Authority (ASA) said although the company did not claim the whisky was Scotch, the name and images created "ambiguity".
The ASA concluded that the advert was misleading and should not be used.
Scottish Spirits said it had already stopped showing the ads.
The ASA said it noted that a company outside Scotland was free to produce whisky but regulations stopped the "labelling, packaging, selling, advertising or promotion of a drink in any way that created a likelihood of confusion on the part of the public as to whether the drink was Scotch".
The Scottish Spirits group produces a number of different whiskies including "Grand Son" and "John Bow".
It also produces a halal alcohol-free version of the drink called "Aikay".
The Scotch Whisky Association said: "Scotch Whisky can only be made in Scotland and is protected in law.
"We are delighted the ASA has acted to stop this company taking unfair advantage of Scotch Whisky's reputation and misleading consumers."