Engineering sector has 'best performance since 2006'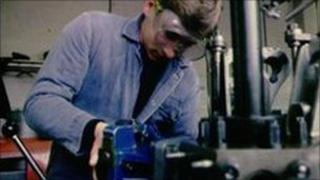 Engineering manufacturing in Scotland is showing its best performance since 2006, according to the latest figures.
The Scottish Engineering Quarterly Review said orders and manufacturing output were on the increase, resulting in a rise in employment numbers and levels of overtime worked.
Scottish Engineering, the industry's support body, said capital investment was also at its highest for two years.
It said forecasts for export orders for the next three months were positive.
Dr Peter Hughes, Scottish Engineering's chief executive, said: "Despite a background of problems arising from the banking crisis the amount of capital investment is at its highest level for more than two years.
"We are seeing companies from all disciplines within the engineering industry taking positive steps to maintain the growth that started from a very low base virtually a year ago and has continued with growing momentum up to the present quarter."
The organisation said that on the back of the other improvements the industry is experiencing, optimism was at its highest level for more than 12 years.
Dr Hughes added: "I am delighted with the way our industry has responded particularly across the various sectors.
"While I see marginal benefits due to the value of the pound against other currencies the vast majority of the improvement is down to hard work and good leadership."