Musician in deal with audio firm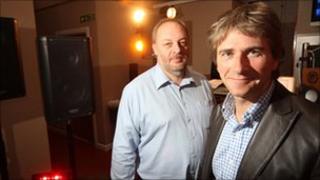 A former rock musician is joining forces with a company providing specialist audio systems for people with hearing problems.
Bass player and music producer Stuart McArthur, who has worked with Madonna and Take That, currently heads Glasgow-based audio-visual company WS Steele.
He has signed a deal with niche audio firm Clear Audio Systems, based in Fife.
Between them the companies employ 17 people.
WS Steele was formed 70 years ago and provides audio-visual systems and CCTV for colleges, hospitals, a golf course and Glasgow Cathedral.
'Different technologies'
Forty-three-year-old Stuart McArthur took over the company seven years ago.
Clear Audio Systems, also known as Claude, was formed in 1993 and installs loop induction systems to boost sound to those with hearing devices in shops, banks, airports and prisons.
The joint venture arrangement, though short of a merger, is to combine forces in what they call the professional audio market, cross-selling and using specialist staff across technologies.
Stuart McArthur said: "I believe that a single company is unable to dominate any technology by itself, so my approach is to develop relationships with different partners for different technologies."
Kim Rose, chief executive of Claude, explained the impact of the new Disability Discrimination Act: "If you provide goods, facilities and services to the public, the Act says organisations must take reasonable steps to ensure that their policies, practices, and procedures enable disabled customers to make full use of services they offer to the public.
"If you don't, you will be in breach of the Act. We see a market in helping these organisations comply by having the appropriate audio enhancement products in their premises."