'People's bank' gets £10m backing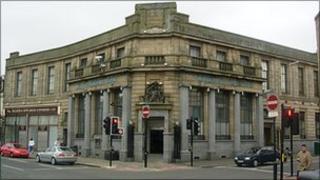 A group of prominent Scottish business people are ploughing about £10m into the Airdrie Savings Bank.
The group, including Sir Tom Farmer, Sir David Murray and Brian Souter, are helping the Lanarkshire bank expand and lend to more businesses.
Mr Souter said people were angry about what had happened to Scotland's banks and this was an opportunity to build a new "people's bank."
The plan is to open one or two more branches over the next 18 months.
The bank, which currently has seven branches in North Lanarkshire, is this year celebrating its 175th birthday.
It is Scotland's last independent savings bank and because it operates as a mutual with no shareholders, it does not have to pay out dividends.
The business names willing to deposit about £1m each in the bank head some of Scotland's biggest companies.
Sir Tom Farmer founded the Kwik Fit garage chain, while Sir David Murray remains a major shareholder in Rangers Football Club and chairman of the property-to-metals group Murray International Holdings.
They are joined by Brian Souter, chief executive of the Stagecoach transport group, and fellow board members Anne Gloag and Ewan Brown.
Alastair Salvesen from the food group Dawn Fresh and financier Sir Angus Grossart are also among the investors.
The Airdrie Savings Bank was founded on 1 January 1835 and was born out of the general "thrift" movement prevalent at the time.
It opened its doors for business three weeks later and concentrated its activities in the town which gave the bank its name until 1916, when it spread its wings and opened a second branch in neighbouring Coatbridge.
Until the 1980s it was a true savings banks - you got out what you put in - but it has since diversified to offer current accounts, loans and mortgages and develop online services.
The latest investment allows the bank to further expand.
'Dip our toe'
Its president, Bob Boyle, said: "The trustees are delighted that so many prominent Scottish business figures have come forward to back our ambitions to expand. Several are supporting us through a combination of deposits and borrowings."
He added: "Airdrie Savings bank, as you would expect, is approaching expansion with caution.
"We will dip our toe in the water by opening one branch at a time to prove the sustainability of growth before considering more ambitious plans."
Brian Souter said the investment created the opportunity to build a new bank which was not concerned with paying big salaries and bonuses.
He said: "I think people are very tired and angry of what happened with our banks in Scotland and I think this creates an opportunity in the future to build a new bank which is based on mutual principles.
"It's not going to be speculating in all kinds of strange derivatives and it's not going to be a bank that's going to be focused overseas, it will be a bank that's focused in Scotland - and really it's a peoples' bank."