Healthy sales for medical firm, Omega Diagnostics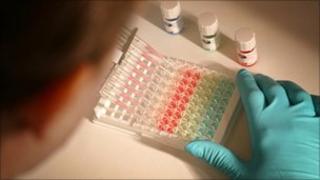 The medical company Omega Diagnostics has announced a 14% increase in sales to £6.2m.
The Alva-based group has developed testing kits for hospitals, blood banks and laboratories in over 100 countries.
It specialises in creating kits for food intolerance, autoimmune disease and infectious disease.
Sales of its "food detective" kit rose by 150% during the past year and the company said it had achieved registration in Brazil.
Omega's chief executive, Andrew Shepherd said: "The market for the group's products continues to expand despite local difficulties in some eurozone countries.
"The major growth in the world market, in particular, in countries such as India, China and Brazil, should compensate for any reduction in sales in problematic markets, which is one of the key strengths of the group's global distribution network."