Greenpeace lodges legal bid to halt Jackdaw gas field in North Sea
By Kevin Keane
BBC Scotland's environment correspondent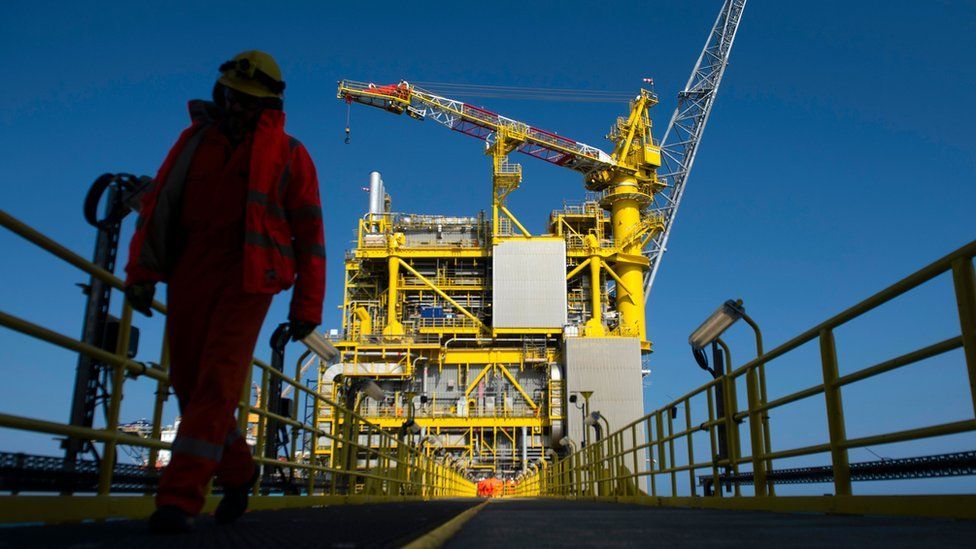 Greenpeace has lodged a legal challenge over consent being given to develop a large North Sea gas field.
The environmental charity believes that in granting consent, the UK government failed to consider emissions from burning the gas.
The UK government would not comment on legal proceedings but said Jackdaw would boost domestic gas supply.
The Greenpeace challenge has been lodged with the Scottish courts.
It will be the second time in recent years that the group has used the law to try and overturn a decision of the UK government over the consenting of oil and gas projects.
Philip Evans from Greenpeace UK said: "This Jackdaw approval is a scandal. The government knows that burning fossil fuels drives the climate crisis, yet they're approving a new gas field in June, without proper climate checks, and declaring a national emergency over heatwaves in July.
"We're taking legal action to stop Jackdaw, and whenever we see the government acting unlawfully to greenlight new fossil fuels, we stand ready to fight in the courts."
Shell has said the Jackdaw field, at its peak, would produce enough gas to heat more than 1.4 million UK homes.
But Greenpeace insists that as a globally-traded commodity, there is no guarantee that the gas will be consumed in the UK and therefore will not lower bills.
The field is not expected to begin producing oil until around 2025.
The government was taken to court last year by Greenpeace over a field permit being awarded in 2018 for the Vorlich field, which was then owned by BP.
It lost the challenge but says permission is now being sought to appeal at the UK's Supreme Court.
Greenpeace also plans to mount a third challenge if permission is given for production from the controversial Cambo field.
Shell, which is a minority stakeholder in Cambo, had said it would no longer pursue oil from the field.
The Department for Business, Energy and Industrial Strategy said it could not comment on live legal proceedings.
But a spokesman added: "The North Sea Transition Authority granted consent to the Jackdaw project, which will boost domestic gas supply in the years to come.
"This was on the basis of Offshore Petroleum Regulator for Environment and Decommissioning considering the environmental statement of the project and concluding that it will not have a significant effect on the environment."
A Shell spokesperson said: "We are aware of Greenpeace's legal challenge against the UK regulator in relation to the Jackdaw consent decision. The court will decide in due course on whether this challenge is allowed to proceed.
"As per the regulatory approvals given and final investment decision taken, we are progressing the project which has the potential to produce more than 6% of UK gas production at a time when UK energy security is critically required."